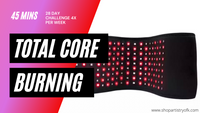 K Kurves 360 Slimming Belt
Start slimming your waist with just 60 mins a day!! Red LED light therapy helps breakdown fat cells and boost metabolism!

Simply apply to your area of choice (abdominal area, back area or thigh region) and relax while over 600 clinical strength LED diodes with red and near-infrared wavelengths drain toxins from fat cells, burn calories, boost your metabolism resulting in a healthier, slimmer you.  

SHOP NOW